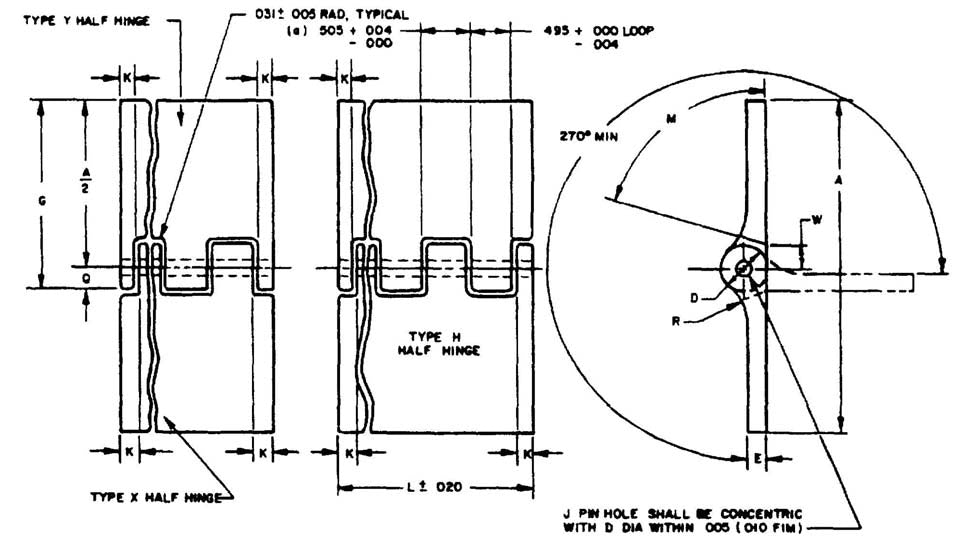 DaSalla's Air has the military specification hinge you need.
Heads up: We sell and customize. Can't find the right specs? In that case, we can also quickly and easily supply an even broader assortment of mil-spec products on a custom-order basis. Just give us a go.

Custom lengths on hinges have long been our specialty, while mil-spec hinges are no exception. Just let us know so we can quote and supply the parts exactly how you want and need them, saving you the time and energy of doing humongous machine work.
Note: Click ITEM NO. to view more details
MS20001 Extruded Continuous Hinges

ITEM NO.
THICKNESS
KNUCKLE
WIDTH (OPEN)
LENGTH
PIN HOLE
QTY
AVAILABILITY
TIER 1
(1-5 Units)
REQUEST QUOTE
(6 or more)

MS20001 Extruded Continuous Half Hinges

ITEM NO.
THICKNESS
KNUCKLE
WIDTH (OPEN)
LENGTH
PIN HOLE
QTY
AVAILABILITY
TIER 1
(1-5 Units)
REQUEST QUOTE
(6 or more)

MS20001P Extruded Continuous Hinges

ITEM NO.
THICKNESS
KNUCKLE
WIDTH (OPEN)
LENGTH
PIN HOLE
QTY
AVAILABILITY
TIER 1
(1-5 Units)
REQUEST QUOTE
(6 or more)

MS20001A Extruded Continuous Hinges

ITEM NO.
THICKNESS
KNUCKLE
WIDTH (OPEN)
LENGTH
PIN HOLE
QTY
AVAILABILITY
TIER 1
(1-5 Units)
REQUEST QUOTE
(6 or more)

MS20001PA Extruded Continuous Hinges

ITEM NO.
THICKNESS
KNUCKLE
WIDTH (OPEN)
LENGTH
PIN HOLE
QTY
AVAILABILITY
TIER 1
(1-5 Units)
REQUEST QUOTE
(6 or more)

MS20001C Extruded Continuous Hinges

ITEM NO.
THICKNESS
KNUCKLE
WIDTH (OPEN)
LENGTH
PIN HOLE
QTY
AVAILABILITY
TIER 1
(1-5 Units)
REQUEST QUOTE
(6 or more)

MS20001CA Extruded Continuous Hinges

ITEM NO.
THICKNESS
KNUCKLE
WIDTH (OPEN)
LENGTH
PIN HOLE
QTY
AVAILABILITY
TIER 1
(1-5 Units)
REQUEST QUOTE
(6 or more)

MS20001CH Extruded Continuous Hinges

ITEM NO.
THICKNESS
KNUCKLE
WIDTH (OPEN)
LENGTH
PIN HOLE
QTY
AVAILABILITY
TIER 1
(1-5 Units)
REQUEST QUOTE
(6 or more)

MS20001CHA Extruded Continuous Hinges

ITEM NO.
THICKNESS
KNUCKLE
WIDTH (OPEN)
LENGTH
PIN HOLE
QTY
AVAILABILITY
TIER 1
(1-5 Units)
REQUEST QUOTE
(6 or more)

MS20001PHA Extruded Continuous Hinges

ITEM NO.
THICKNESS
KNUCKLE
WIDTH (OPEN)
LENGTH
PIN HOLE
QTY
AVAILABILITY
TIER 1
(1-5 Units)
REQUEST QUOTE
(6 or more)